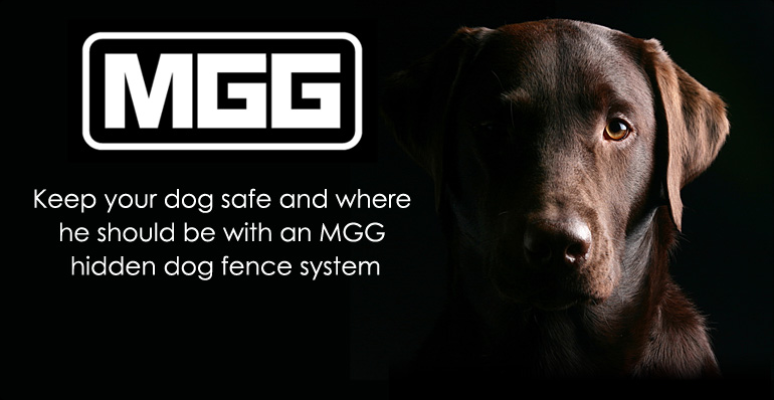 Hidden Dog Fence Systems
MGG Radio Controlled Hidden Fencing Systems for Dogs. Our dog fence systems are a very simple and humane way of keeping your dog within your property! Easy to install and easy to use whether you have just one darling doggie or 101 dalmatians!
Systems Starting from a Super low price of only $110
Now with a thicker (1.9mm) UV stable boundary wire. We also supply an NZ approved mains adapter. Make sure when comparing suppliers that you get an NZ approved adapter with SAA or C-tick approval (see our photo). Others can be dangerous!
Our super-low price of $110 includes 100 metres of 1.9mm boundary wire and waterproof wire joiners. (An extra 100 metres of boundary wire with waterproof joiners is only $25. We can also supply extra receiver collars, if you have more than one dog, at $35 each and for medium to large dogs a waterproof re-chargeable collar for $79 ($44 upgrade)
Main Features:
Your dog will get a clear audible warning when it gets too close to the boundary and if he/she does go closer then static corrections will be given. The systems feature:
The closer your dog gets to the boundary, the more intense the correction will be.

Variable Field Width Control. Allows you to precisely control the width of the signal field.

Built-in Lightning Protection. Helps protect the transmitter from power surges caused by lightning strikes.

Add as many collars as you like to contain as many dogs as you have.

We provide a 12 month warranty against faulty manufacture on the systems.
This system is suitable for a boundary of up to 300 metres. (Note that there is 100m of wire supplied with starter kit and you will need to order extra wire if your boundary is longer). If you need advice we can tailor a system for you. Just email us: info@mggproducts.co.nz or phone 0800 GIZMOW. We have several different system options for up to 10 acres.
If you need advice we are happy to discuss your requirements and tailor a system for you call us on 0800 GIZMOW.